While seller numbers plummeted, buyer interest rose in October. At open for inspections, average check-ins per listing were up 9.1 per cent compared with September, Domain figures show.
The number of active bidders at auctions has also stabilised. Through June and July, the average number of bidders held between 2.2 and 2.5. Rather than falling further as the price downturn gathered pace, average bidder numbers have held at least at this level and edged as high as 2.9 in spring.
Ray White Carnegie partner and auctioneer Tom Grieve said market conditions were extremely tight and home sellers on the market now were getting the attention of more buyers.
"At the same time last year we were having 1500 auctions every weekend, but this year there's only been one weekend where we've cracked 1000 auctions in October," Grieve said.
This Saturday there are only 672 auctions scheduled.
Buyers were hunting for newly built or renovated homes they could move into and enjoy, especially as building costs had blown out during the pandemic.
These are the buyers that Anna and Hayden Rattray are hoping will want their re-built heritage-style home in Carnegie.
The couple is selling to buy a bigger family home for themselves and their four children, a bittersweet decision after being involved in the build and design.
Anna, a criminal lawyer, and Hayden, a barrister, are confident of a good sale despite the downturn after being advised their home was particularly sought-after.
"We're hoping the person who buys our home will be looking at it as a forever home and love it as much as we did," Anna said.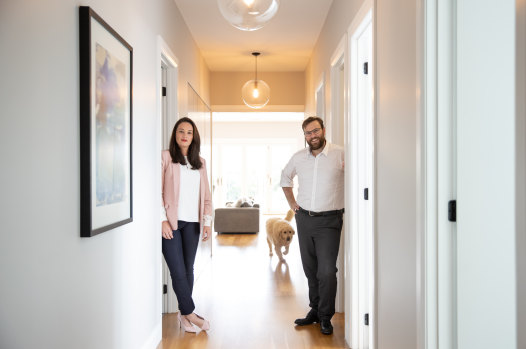 Buyers' advocate Cate Bakos agreed that people were mainly searching for move-in ready homes, but these were hard to find amid the dearth of listings.
"I'm asking agents about these homes all the time, and they're just eye rolling at me and saying 'if only I had one for you'," Bakos said.
She said vendor numbers had fallen this year as many had listed and sold during COVID-19 to make lifestyle changes.
"Now people know if they're listing, there's nothing to buy, and if they have to rent, finding a rental is nearly impossible – it's really a disincentive to sell," Bakos said.
Loading
Commonwealth Bank head of Australian economics Gareth Aird said the low volume of homes for sale could mean house prices in some segments of the market hold up better, but property was cyclical.
"Everyone needs a roof over their heads, so the would-be seller becomes the would-be buyer and if there's not a lot of stock on the markets, then sellers/buyers will just sit on their hands until they find what they want," he said.
Aird said he expected only one more interest rate rise – of 0.25 per cent – before the end of the year, after seven rate rises since May. The Reserve Bank would then pause to assess their impact, he predicted.
He expects Melbourne's house prices to fall by 17 per cent peak to trough and prices to fall 15 per cent nationally. But this could worsen if interest rates continued to rise past this year, he said.