She said rising prices in regional centres had created a ripple effect that boosted nearby cheaper markets as some locals looked further out.
"This is the strongest upswing regional Victoria has ever seen – the person it impacts most is a local buyer on a local wage unable to keep pace with that price growth," she said.
"That tree-change has been a strong trend, particularly so in Victoria, and it's locals that pay the price of that trend."
In the shire of Yarriambiack, between Horsham and Swan Hill, the median house price is 35 per cent higher than 12 months ago at $202,500.
Prices are also higher in other relatively affordable areas such as Ararat (up 29 per cent to $400,000), Gannawarra Shire including Kerang (up 26.5 per cent to $310,000) and East Gippsland (up 25.6 per cent to $540,000). The report covers the period before the recent floods.
Ararat Ballarat Real Estate sales consultant Aidan Moar said the Ararat market is still "quite strong".
He is fielding interest from buyers from the local area and from Melbourne and Geelong, but has started to notice a shift.
"We have probably seen it correct a little bit, the last six to eight weeks, compared to what it was," he said.
Some homes are now taking 40 to 50 days to sell, compared to 20 days in the boom, he said, as buyers deal with rising interest rates and the increasing cost of living, as well as the Victorian floods.
Prices are as much as a third higher than a year ago in parts of the Mornington Peninsula, statistically part of greater Melbourne but one of the hottest sea change destinations since covid hit.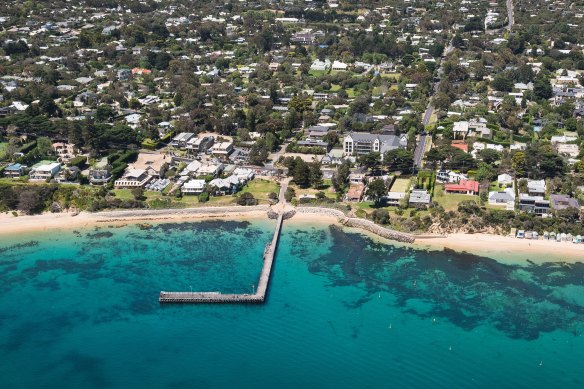 Safety Beach house prices are 35.9 per cent higher than 12 months ago at a median $1.25 million, while Dromana (up 25.4 per cent) and Sorrento (up 25.2 per cent) have jumped.
Kay & Burton Portsea and Sorrento director Liz Jensen has had "a couple of really good sales" in Portsea recently, and continued sales in the $2 million to $3.5 million range, without noticing price falls.
She said many young families who moved to the peninsula in lockdown have since bought houses and formed a community.
Loading
"I'm not spruiking that there are six buyers for each property like there were before, but there are still buyers that want to come down here," she said.
"The quality of lifestyle is more talked about than ever before."
Regional Australia Institute chief economist Kim Houghton said the outflow of city residents to the regions was slowing, and migration from regional Australia to the cities was almost back to pre-pandemic levels.
"We had increasing buyer interest as a time of decreased supply, which coincided with lower fixed rates, and that drove the sharp price rise, but all those factors have changed now," he said.
Popular sea and tree change towns that recorded phenomenal price growth earlier in the pandemic were first to see a pullback in demand, resulting in stronger annual price growth in more affordable regions.
Houghton expected price declines in regional Australia would be more subdued than in the capitals, but said more supply would still be needed to address the housing and rental affordability crisis.