Six interest rate rises since May have added pressure to Melbourne's market, and property prices have fallen at the fastest pace ever. House prices fell 4.3 per cent over the September quarter and units dropped by 3.3 per cent, as the amount that buyers qualified to borrow from the banks was squeezed.
Loading
AMP Capital chief economist Dr Shane Oliver said Melbourne's property prices are likely to fall further, after the recent rise in inflation to 7.3 per cent.
Some economists are now predicting the cash rate could peak at 3.6 per cent in the first quarter of next year, rather than 3.35 per cent, cutting buyers' borrowing power even further.
Mortgage rates are likely to jump from 3.5 per cent to more than 6 per cent next year – almost doubling monthly repayments, Oliver said.
"Buyers and first home buyers who might be going to get a cheaper price on a house, that [savings] will be offset by higher mortgage rates," Oliver said.
In Melbourne, he predicted house prices could come back by 17 per cent peak to trough.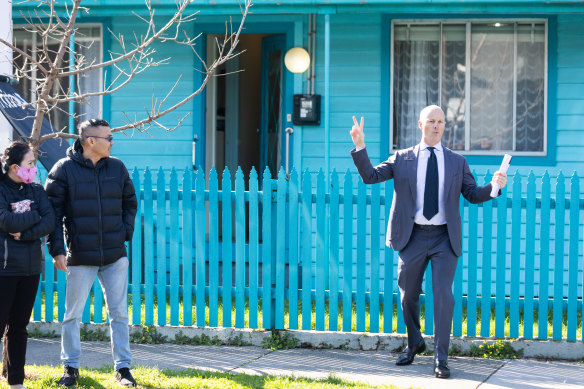 Nelson Alexander Carlton North director Nicholas West said homes in inner-city areas – including those where prices were rising – were still popular, though there were fewer buyers compared to last year.
Buyers, he said, are contemplating whether to wait to buy at the bottom of the market, or whether to lock in a lower interest rate now and get more money from the banks while they could.
"If you do wait before you buy, for the bottom of the market, then you can miss out on taking advantage of the lower interest rates that allow you to borrow more," West said. "You could find you can't afford it because your pre-approval amount will change."
Though buyers and sellers are jittery, falling prices can make properties more affordable for some.
That included Tom Lander, 25, and his partner Fergus McWhirter, who this week bought their first home – a townhouse in Fitzroy, where house prices fell by 3.9 per cent over the year.
"We've really been looking on and off for the last 12 months, but we weren't in a position to buy back then," Lander said.
"We've been looking more intently over the past six months, and we've seen what everybody else has been seeing – prices have been going down."
Lander and McWhirter's buyers' advocate Cate Bakos said buyers were looking to purchase via a private sale or expressions of interest, rather than an auction, because they could add a 'subject to finance' clause.
That would overcome any problems if their pre-approval amount changed.
While the market has been in a downturn, more buyers had been coming back recently as they adjusted to rising interest rates.
"It appears that rates are becoming closer to the point of equilibrium," Bakos said. "That's changing buyer confidence."